Real Wood Looks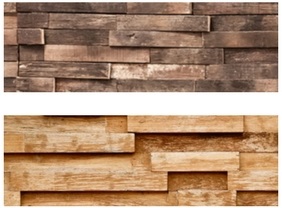 We at National Carpet One are your neighborhood experts when it comes to wood flooring, so we know that nothing can truly add style, luxury, and value to your home like a real wood floor. But, does real wood need to be restricted to the floor? Not when you choose to add wood wall paneling to your home setting. We are excited to offer Nuvelle DecoWall, a real wood wall option that can be installed in residential and commercial settings.
Nuvelle DecoWall is available in two types: DecoPlanks and DecoStrips. DecoPlanks are essentially real wood planks that, instead of being installed on floors, are actually made to be installed on walls. They aren't much different than floor planks, however, as they offer a real wood construction and real wood looks. DecoStrips have the same wood construction as DecoPlanks, but, as you can imagine, they are available in smaller sizes. DecoPlanks and DecoStrips can be installed over a full wall, or they can be used to add custom panels to a wall.
Adding DecoPlanks or DecoStrips to your home is certainly a bold move that can truly make your home one-of-a-kind. At National Carpet One Floor & Home in Forrest City, we are proud to be the local wall plank provider to Francis County and all of North Eastern, Arkansas.